Dipeo de Criterion:
47E1492EDAAB2BB11339E449993571EF
Subs:
00038E744AC36426F7B9FD41D8C3F5BD
Quote:

---

Hxan es quizs la pelcula ms conocida de Benjamin Christensen (1879-1959) se hizo en Dinamarca con fondos suecos; por eso los suecos la consideran suya. Fue planeada como una triloga, pero la segunda y tercera parte jams llegaron a rodarse. Al igual que Carl Th. Dreyer, Christensen estaba interesado en el detalle histrico y l mismo describi el film como "una confenerencia histrico-cultural hecha con imgenes en movieminto". Christensen desempe el papel de Diablo en esta obra que fue la pelcula nrdica ms cara de la historia, costando ms de un milln de coronas suecas. Desafortunadamente, La brujera a travs de los tiempos (Hxan) fue un fracaso econnico>> Jean Freiburg, para H General del Cine. Vl 5. Ed Ctedra. p 158.


---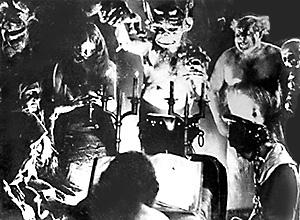 Quote:

---

Benjamin Christensens bizarre examination of witchcraft in the Middle Ages is brought to life with shadowy darkness, double exposures, stop-motion animation, reverse motion, stark close-ups and more. The films well-designed and carefully composed shots are full of detail and texture, highlight and shadow, and great costume and set design. At times, the film has the look of period paintings with their single-source lighting and dramatic shadows. The film was largely shot at night to put the actors into the proper mood to produce inspired performances.

Christensen made a film that is episodic: an artistic blend of semi-documentary and semi-narrative. His intent was to entertain his audience but also to teach and inform as well. The film is a condemnation of the narrow and ignorant thinking of the Middle Ages, when unusual, reclusive, deformed, or simply contentious people were condemned as practitioners of witchcraft. As many as forty to fifty thousand people were burnt at the stake in Europe for witchcraft, and Christensen maintains that the procecutors were in reality the demons unleashed on the world. When ignorance goes hand in hand with rightiousness, cruelties and atrocities follow.

The film is segmented into seven chapters which is the skeleton of its odd structure.
1-Chapter one has been described as an illustrated lecture, with Christensen showing illustrations from historical books and providing background on the subject for the story to come.
2- Chapter two begins the narrative section of the film, with reenactments of witch practices beginning in 1488.
3-Chapter three begins an extended section of connected narrative, based on details obtained from a number of historical sources, focusing on particular characters and beginning the witch trial cycle with accusation and witchhunting.
4-Chapter four contains the witchcraft trial procedures.
5-Chapter five dramatizes the process of torture to obtain a witchs confession.
6-Chapter six returns to the nonnarrative format with the documentation of other practices of witches, the contagiousness of insanity, and the tools of torture and self-punishment of Middle Ages Europe. The section is a combination of the instructional and narrative forms of the entire film.
7-Chapter seven takes an unexpected turn into modern day civilization, in which Christensen follows contemporary turn-of-the-century thinking which linked witchcraft with the psychological state of hysteria, all based on the psuedoscientific conclusions of 19th century French psychiatrist Chacot and others. The only view of witches being burnt at the stake comes as the last shot of the film.


---
Saludos.
"Las religiones, como las lucirnagas, necesitan de oscuridad para brillar"